High Quality Rugby at Limerick Rugby Fest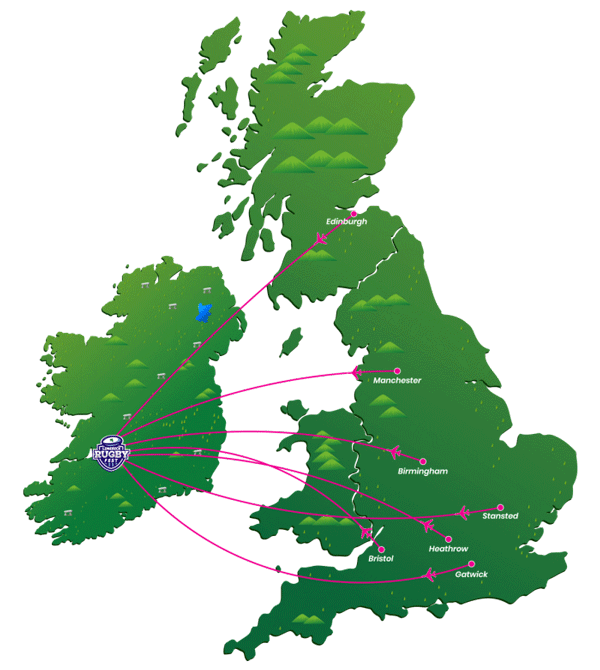 If you want your team to enjoy tournament rugby in Ireland then Limerick Rugby Fest is perfect for you! Held in the superb facilities of Old Crescent RFC in Limerick, your team will experience fast paced rugby action in comfortable surroundings. With competition grades for teams ranging from U10 up to U14 , there is rugby for everyone. Each team will be guaranteed a minimum of 4 matches during the tournament and also lunch packs are included for every team. Download Fact Sheet. You can also book your place online at the Limerick Rugby Fest website.
After a highly successful launch the Limerick Rugby Fest aims to incorporate international teams from across Europe, making this a staple of the mini and junior rugby calendar.
Limerick is easily accessible via Shannon's International Airport with flights available from all over the UK & Europe to bring travelling teams to participate in Limerick Rugby Fest. We will organise a full tour for international teams wishing to attend Limerick Rugby Fest which can include flights, accommodation, tournament entry, transfers and activities, just get in touch and we will build your team tour to Ireland!
Features
Matches
– Minimum of 4 matches
– 12 mins a side
Age Groups
Boys:
– U10
– U11
– U12
– U13
– U14
Pitches
– Dedicated pitch for each age grade
– Full size for U14 & U13
– Mini pitch for U12, U11 & U10
Facilities
– Lunch packs provided for all players
– On site food
– Medical services on site
Extras
– Medals for winners & runners up of each grade
– Winners plaque
– Certified MAR referees
Accommodation
Accommodation
Local hotel accommodation can be made available for teams travelling from outside of Ireland. Request a quote based on your group size from our team. We negotiate the best deals for your team and allow you to enjoy your trip without the hassle of contacting hotels in other countries.
Facilities
The rugby festival facilities are excellent with three full size dedicated rugby pitches and also two minis pitches. 
Sample Itinerary
10:00am
Team registration and welcome pack pickup
10:30am
Coach briefing in clubhouse
Referee briefing
10:40am
Teams assemble at their assigned pitches
11:00am
First kick-off takes place for each age group with matches beginning every 15 minutes
14:15am
Semi-Final matches take place
15:00am
Finals take place
15:30am
Medal presentations for winners and runners up of each age group